Strawberry Roan – Myndlistasýning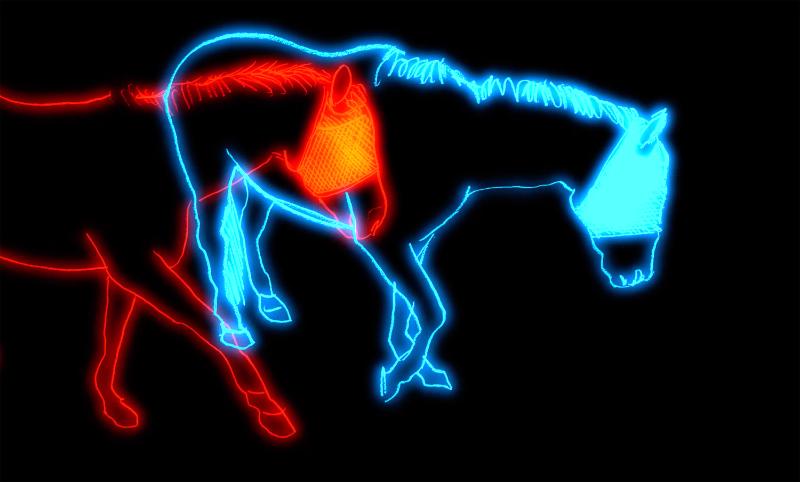 Strawberry Roan
Þriðjudag 15. júní 2021 kl. 17 – 19. Aðeins þessi eina kvöldstund!
Tuesday June 15th hr. 17 – 19. One night only!
a two-person exhibition of works by 
Nate King www.nathan-andrew.com 
Rachel Lin Weaver www.rlinweaver.com 
Nate King
Bio: Nate King is an interdisciplinary media artist working in animation, video, and installation. His projects, which exist on the edge of performance, explore personal narrative and identity, incorporating images directly related to his own body and idea of self. Themes of connectivity, digital spaces, and queerness are found at the center of his work, questioning implications and methods of engagement with others in a combined physical and virtual world. King holds an MFA in Digital Arts and Animation from Pratt Institute in Brooklyn, New York, and a BA in Cinema from Virginia Commonwealth University. He currently teaches as an Assistant Professor at Virginia Tech in the School of Visual Arts.
Artwork:
I'm Sorry Mamma, I'm a Cowboy
This work questions the masculine archetype of the cowboy by highlighting queer imagery, usurping heteronormativity, and embracing the queer cowboy as authentic. Animated clips are reused across composites, building upon the body of work in an interactive way. Animations include a glimpse toward the fetishization of cigars, a character's attempt to smoke, and the unavoidable nature of a cigar as a phallic object. Phrases associated with literature, pop culture, and psychology help place the work within a broader anthology of ideas linking cowboy culture and queer identity. For example, the title "I'm Sorry Mama, I'm a Cowboy" jokes on the idea of coming out of the closet to a mother who has been warned against ways of the cowboy (Mammas Don't Let Your Babies Grow Up To Be Cowboys by Willie Nelson).
---
Rachel Lin Weaver
Bio: Rachel Lin Weaver is an artist whose works span video, installation, sound, and performance. Her artworks explore memory, the collision of human and nonhuman lives, landscapes, and ecological systems. Her creative interests relate directly to her upbringing in wilderness areas and rural communities in poverty, and she finds many useful metaphors in the natural world. Born in Austin, Texas in 1985, Weaver spent her childhood in Alaska and West Virginia. She holds an MFA from Indiana University Bloomington, and a BA from Berea College. Weaver serves as the Program Director for Cinema Reset, the new and emerging media program of the New Orleans Film Festival. She lives and works in the Appalachian mountains, where she is Director of the MFA program in Creative Technologies at the School of Visual Arts at Virginia Tech.
Artwork:
5462
1080p Video, Color, Stereo Audio (2020)
An experimental film about individuality and the BLM Wild Horse and Burro Program in the United States. The US Bureau of Land Management (BLM) removes wild horses and burros from public rangelands, but then is burdened with caring for and maintaining these animals in holding facilities. Horses are kept for many months, sometimes many years, until they can be auctioned off to meat sellers or new owners.
The system is highly debated. Animal rights activists view the round-up (done by helicopter), and squalor of holding facilities as unnecessarily cruel and traumatizing; ranchers view the horses as a direct threat to grazing and water access for cattle and sheep; politicians and citizens alike see the cost of keeping horses indefinitely as a huge fiscal burden to taxpayers. Over 45,500 wild horses are currently in off-range holding facilities across the United States, and this video documents some of the animals before auction.
This project was shot with cell phones in off-range corrals. We are confronted by each animal's individuality. The horses are completely wild, and engage in a terrified dance around and around the camera.