Color me happy – Art exhibition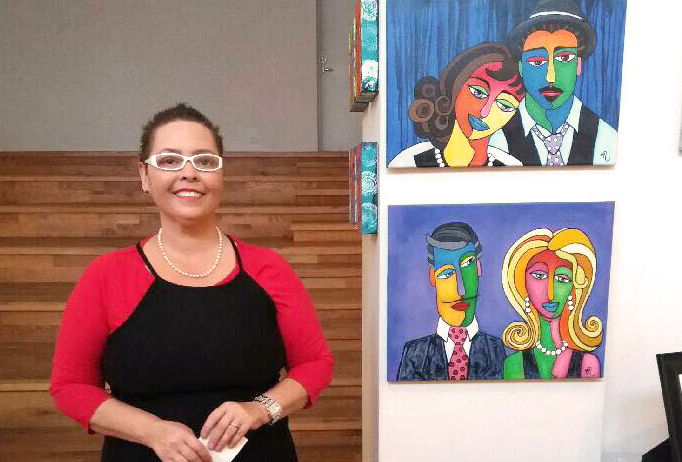 Please join us for the opening of "Color me happy", an exhibition held in memory of Maureen Patricia Clark or Pat. On display will be several paintings by Pat made throughout the years. The opening is on Friday the 3rd of August hr. 20:00 in Deiglan, Akureyri. The exhibition is also open on saturday and sunday, August 4-5th hr. 14 – 17.
Pat was a proud Icelandic/American born in Ohio. She lived in the USA until she moved with two of her siblings and their mother to Iceland at the age of 11. She live in Florida from 2000 – 2004 but due to homesickness she moved back to Iceland. She overcame that 7 years later and she loved life in Florida once again.
She had the NEED to create since she can remember. So as she grew up in the breathtakingly beautiful country of Iceland she continued her joy of creation by experimenting and learning. She studied industrial design in Iðnskólinn in Hafnarfjörður where she got a taste of many different types of material and mediums to use in her quest for knowledge including acrylics, glass, metal, plastic, stone, wood and more. She studied oil painting and clay art in the The Reykjavík School of Visual Arts. But her heart was mostly set on playing with acrylics.
Despite all the technical training she had gotten through schooling, she painted and created with her heart and soul. She did what made her smile and gave her happiness. She thanked  the people in the USA and in Europe who have supported and believed in her by purchasing her work. Her dream was, to bring a smile and as much joy to people, with her art, just as much as she got while making it!
Pat held many solo exhibitions and participated in various group exhibitions as well. She sold her work all over the world as well as helping out charities, both with her labour and displaying her art.
//
Verið velkomin á opnun sýningarinnar "Color me happy", sýningu í minningu Maureen Patricia Clark, Pat, sem lést árið 2017. Til sýnis verða ýmis verk eftir Pat, unnin með akrýl og olíu. "Color me happy" opnar kl. 20 á föstudaginn 3. ágúst í Deiglunni, Listagili og verður einnig opin laugardag og sunnudag kl. 14 – 17.
Maureen Patricia Clark var stoltur íslenskur ameríkani, fædd í Ohio. Hún bjó í Bandaríkjunum þar til hún flutti ellefu ára til Íslands með systkinum sínum tveimur og móður. 2000 – 4 bjó hún í Flórída en flutti aftur til Íslands vegna heimþrár. Sjö árum seinna komst hún yfir heimþrána og náði að njóta lífsins í Flórída að nýju.
Hún hafði mikla þörf fyrir að skapa frá blautu barnsbeini og hélt því áfram á meðan hún ólst upp á hinu fagra Íslandi og naut þess að læra og gera tilraunir. Pat lærði iðnhönnun við Iðnskólann í Hafnarfirði. Þar komst hún í snertingu við ný efni og miðla til að vinna með, akrýlmálningu, gler, málm, plast og lífræn efni líkt og stein og við. Hún lærði ólíumálningu og leir við Myndlistaskólann í Reykjavík en henni þótti alltaf best að vinna í akrýlmálningu.
Þrátt fyrir alla tæknina sem hún lærði í náminu, þá skapaði hún alltaf með hjartanu. Hún gerði það sem fékk hana til að brosa og vera hamingjusama. Hún þakkar fólkinu í bæði Bandaríkjunum og Evrópu sem hafa stutt hana með því að kaupa af henni verk. Draumur hennar var að fá fólk til að brosa og njóta með list sinni, jafnmikið og hún þegar hún var að vinna verkin.
Pat hélt fjölda einkasýninga, tók þátt í mörgum samsýningum og seldi verk sín um allan heim ásamt því að vinna að góðgerðarmálum, bæði með vinnu og að sýna verk eftir sig.