Matt Armstrong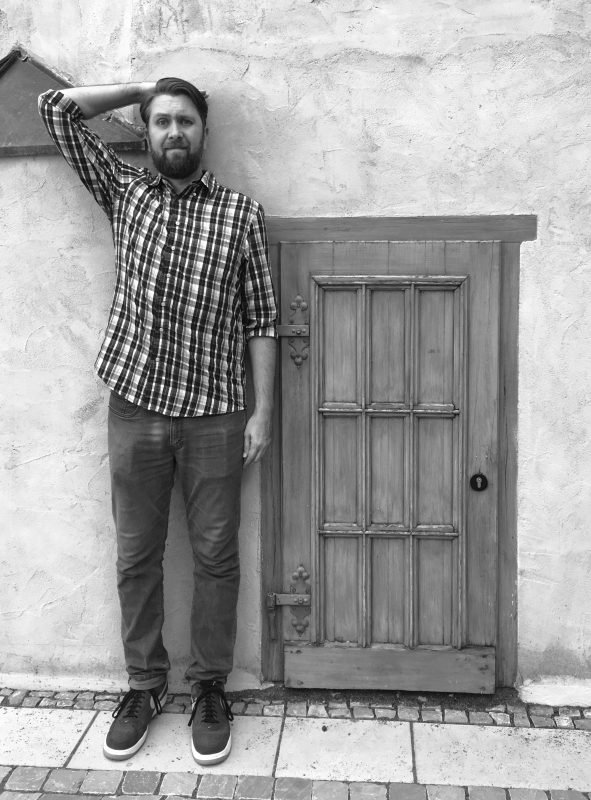 Matt Armstrong is a visual artist in Atlanta, Georgia, USA, and earned his Bachelor of Fine Arts degree from Valdosta State University in 2003. Armstrong's creative process usually starts concept/idea first, and then a brainstorm for visual communication follows. "I generally strive to communicate through my art in a conversational way. I tend to gravitate towards concepts of truth and life experience that are widely relatable, and then use visuals to engage to viewer's mind and imagination. The visual conversation is not meant to be abstract, though the visuals can be either abstract or representative." Armstrong specializes in acrylic and oil painting as well as charcoal. One of his current series of work is called "Dark Sky" which centers around true night visuals of the Milky Way and Aurora Borealis. Here's an excerpt from the "Dark Sky" artist statement:
One of the major (unintended) consequences of modern urbanization and light pollution is that we aren't confronted with something as overwhelmingly large and amazing as the cosmos on a consistent, nightly basis, and many of us have lost a natural guidepost that helps us keep our true size, as humans, in context. When I first saw the Milky Way in all it's glory, one of the words I found that helped describe my experience was I felt "confronted" by the night sky. Yet, I've found that feeling smaller, or more "right-sized", hasn't made me feel less important or significant. In fact, it caused me to think deeply, ask meta-questions, and ponder greater purposes outside of my normal comforts and day-to-day thinking." " …My pursuit of this series is an attempt to recapture the important role night plays in people's lives…"
Armstrong plans on photographing and painting the Aurora Borealis as a continuation of his "Dark Sky" series during his stay in Iceland.
He will will talk about is work in Akureyri Art Museum on Nov. 5th at 17:00. An exhibition of his work will take place in Deiglan on Nov. 23 – 24th.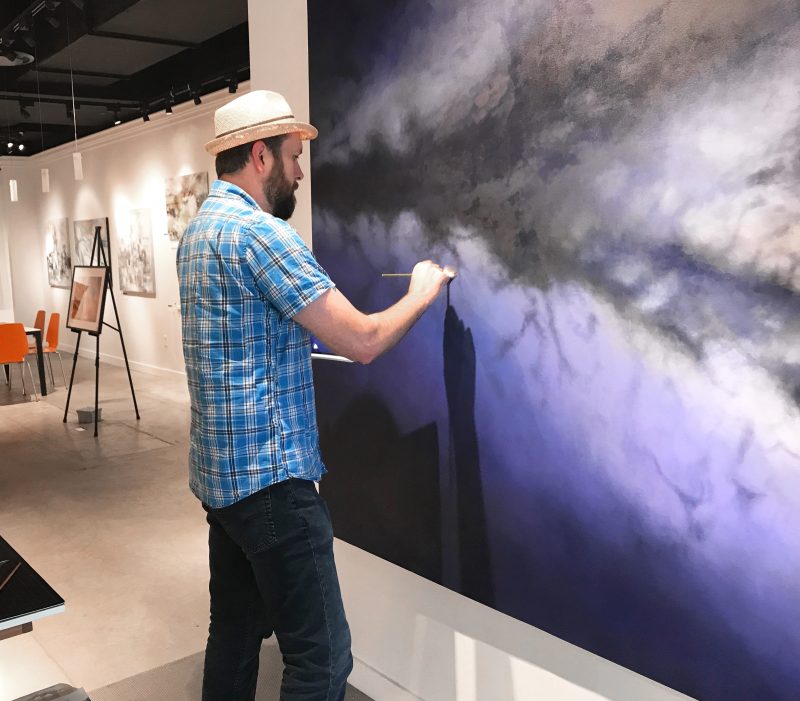 Matt Armstrong er myndlistamaður búsettur í Atlanta, Georgia í Bandaríkjunum og hlaut BFA hjá Valdosta State University 2003. Hans listræna ferli hefst yfirleitt með hugmynd sem hann reynir að miðla á myndrænan hátt. "Almennt reyni ég að miðla listinni minni eins og samtali. Ég hneigist að hugmyndum um sannleika eða lífsreynslur sem margir geta tengt við og nota síðan myndefni til að virkja áhuga eða ímyndunarafl áhorfandans. Myndræna samtalið á ekki að vera óhlutbundið þótt að myndefnið geti verið bæði abstrakt eða hlutbundið." Armstrong sérhæfir sig í akrýl- og olíumálun sem og kolateikningu. Ein af seríunum sem hann er að vinna að núna kallast "Dark Sky" / "Myrkur himinn" sem samanstendur af sönnum næturmyndum af Vetrarbrautinni og norðurljósunum.
Hér er útráttur úr yfirlýsingu listamannsins um Myrkan Himinn:
"Ein af helstu (óviljandi) afleiðingum þéttbýlismyndunar og ljósmengunar er að við stöndum ekki lengur frammi fyrir einhverju jafn yfirþyrmandi stóru og ótrúlegu eins og alheiminum flest kvöld. Mörg okkar hafa því misst þessa náttúrulegu vörðu sem hjálpar okkur mönnunum að hugsa um stærð okkar í samhengi við alheiminn. Í fyrsta skiptið sem ég sá Vetrarbrautina í allri sinni dýrð fannst mér ég standa frammi fyrir næturhimninum. Samt hefur sú tilfinning, að finnast ég smærri eða "í réttri stærð" ekki fengið mig til að finnast ég vera ekki eins mikilvægur. Reyndar varð það til þess að ég fór að hugsa dýpra, spyrja spurninga og hugleiddi frekari tilgang utan minna þæginda og daglegrar hugsunar."
"Leit mín innan þessar seríu er tilraun til að endurheimta hið mikilvæga hlutverk sem nóttin leikur í lífi fólks."
Í nóvember mun Matt halda áfram vinnu sinni að seríunni Myrkur Himinn með því að ljósmynda og mála norðurljósin. Hann mun halda fyrirlestur um verk sín í Listasafninu á Akureyri 5. nóvember kl. 17:00 og sýna afrakstur dvalar sinnar í Deiglunni 23.-24. nóvember.