Capturing the Drama of the Icelandic Landscape in Pastel.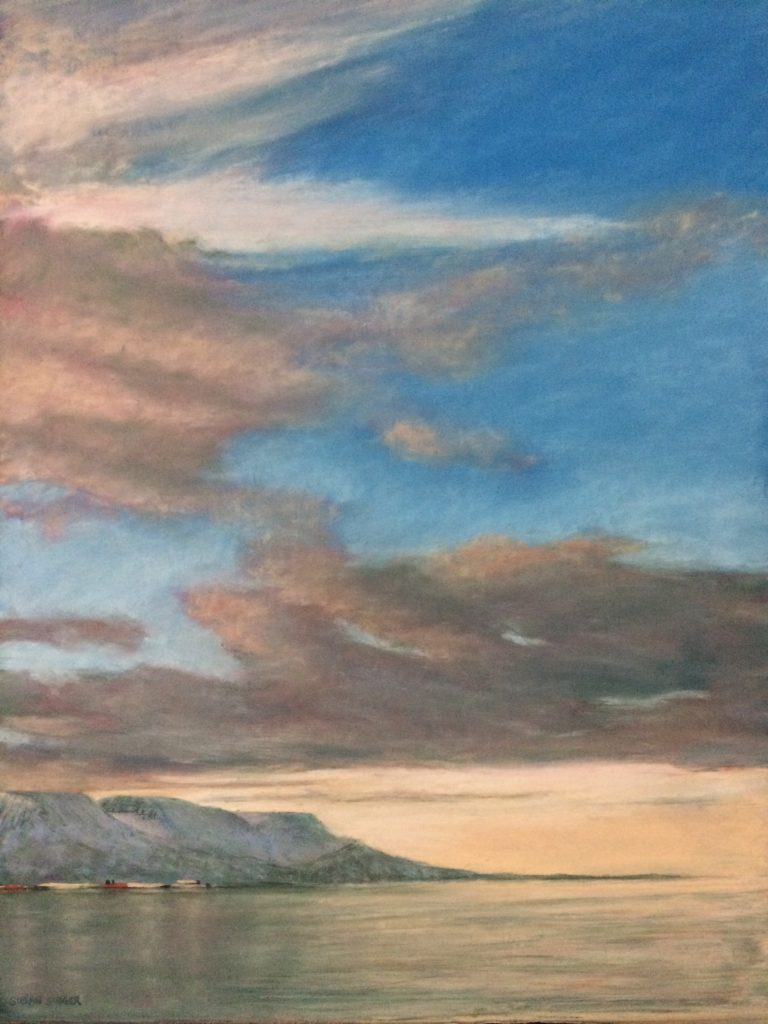 Capturing the Drama of the Icelandic Landscape in Pastel.
Workshop with Susan Singer on 10-11 november, hr. 10-16.
Price 30.000 kr., confirmation fee is 5.000 kr. Possible to get a refund from your union.
10 participants maximum, some artistic experience necessary, pastel experience not necessary.
Students will first learn about pastels as a medium, how they are made, different ways of using them, artists who have used them in their work, what's happening in the world of pastels these days, brands of pastels and papers and their qualities, where to get pastels and paper online. Susan will do a demonstrations and students will have the opportunity to create a drawing from life from a piece of fruit.
We will talk about drawing from a photograph – how to take good photographs, and how to choose what's a good one to draw from.  What creates drama in a photograph?  What makes it good to draw from?  Students will create a small drawing of a landscape using their own photograph.
Sunday: Students will use alcohol to create a wash then will continue their painting through to completion (ideally). Susan will offer support and help and information individually as students workW. e will have a friendly, supportive critique at the end to discuss what worked and what didn't and what might have helped. Depending on the weather and the time, we might go outside Sunday to take some photographs then work from those photos.
Materials needed:
pastels and pastel pencils if you have them
Sketchbook
5-10 photographs of the landscape to work from (ideally your own photos, printed out in A4 format)
1-2 pieces of fruit for still life
drawing board
easel if possible
lunch each day, we will take approx. 30 mins for lunch, microwave and kettle on site.
Outdoor clothes depending on weather.
Camera or phone to take photos.
Susan Singer is a professional artist based in Virginia in the United States.  Her primary mediums are pastels, oils, and bookmaking.  In 2015, on a 3-day stopover, she fell in love with Iceland and has spent as much time as possible here since then creating paintings of the Icelandic landscape.  She showed these works at Deiglan at the end of her Akureyri residency in 2016 as well as in the US at various galleries.  In addition to being a practicing full time artist, Singer is also a gifted teacher who loves to help students explore their creativity and improve their skills.  This November she will be in residence at the Gamli skóli on Hrisey exploring that magical island and all it has to offer.
Sign up and more information please contact gilfelag@listagil.is
Susan's stay is generously backed by Akureyri Backpackers