Nes Artist Residency Alumni Exhibition – Celebrating 10 years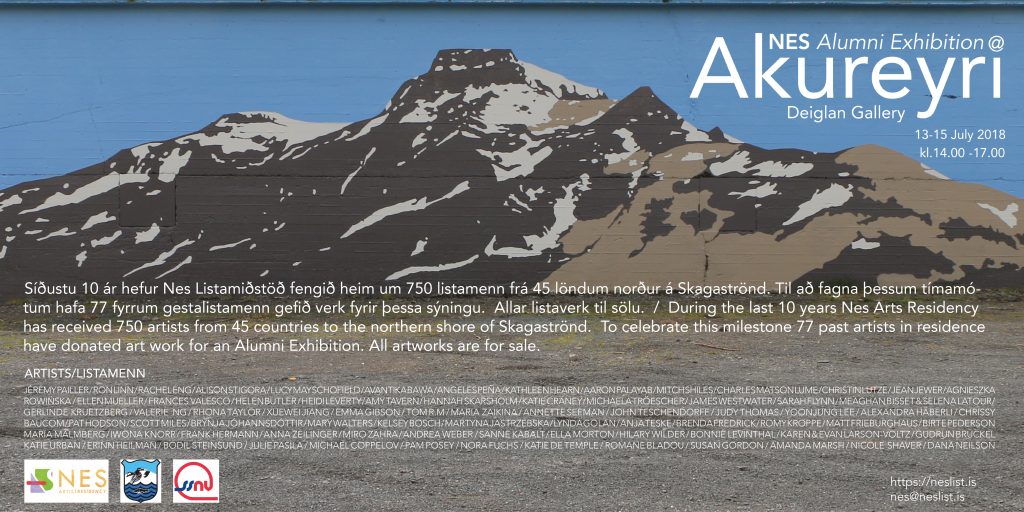 Nes Artist Residency Alumni Exhibition – Celebrating 10 years
Please join us for the celebration of the 10 year anniversary of NES ARTIST RESIDENCY in Deiglan next weekend, 13. – 15. July hr. 14 – 17.
June 2008 saw the first group of artists arrive to NES ARTIST RESIDENCY and over the last 10 years 750 artists from 45 countries have visited this remote northern town of Skagaströnd. These artists immerse themselves into the community for a month or more, creating meaningful, multi-layered cultural exchanges with other artists and local residents.  During the last 10 years NES has grown from an idea to a flourishing international artist residency.  To celebrate this milestone 77 past artists in residence have donated art work on paper for an Alumni Exhibition.
///
Við bjóðum þér að fagna með okkur 10 ára afmæli NES Listamiðstöðvar um helgina, 13. – 15. júlí kl. 14 – 17 í Deiglunni, Listagili.
Fyrsti hópur listamanna til að dvelja í NES Listamiðstöð kom í júní 2008 og síðan þá hafa 750 listamenn frá 45 löndum dvalið á Skagaströnd. Þessir listamenn verða hluti af samfélaginu í mánuð eða meira og úr verða þýðingamikil og marglaga menningarsamskipti við aðra listamenn jafnt sem íbúa Skagastrandar. Á þessum 10 árum hefur hefur NES þróast úr hugmynd yfir í frjóa alþjóðlega gestavinnustofur. Til að fagna þessum tímamótum hafa 77 fyrrum gestalistamenn gefið verk á pappír fyrir þessa sýningu.