Geislar af sól – Exhibition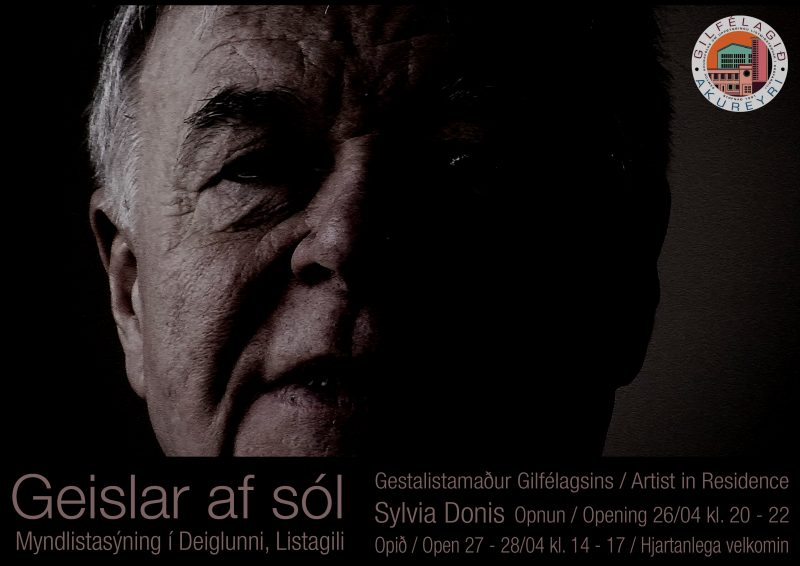 Video and sound installation.
Please join us for the opening of 'Geislar af sól' in Deiglan, Akureyri on Friday night hr. 20. Gil Artist in Residence, Sylvia Donis, exhibits the products of her stay, a video and sound installation. Light refreshments available.
The french artist Sylvia Donis left the Mediterranean light for the eternal night.
She spent the winter in northern Iceland.
Here she met the black, the snow, the ravens, the people, visible and hidden.
She perceived the close relationship between the night and the stories people tell to each others, as if in the dark the stories start appearing as images.
In this exhibition, spectators are invited to come into the darkness, to meet some faces, to see some fuzzy shapes and to hear some voices telling stories of night and light.
Sylvia Donis is a french visual artist, graduated in photography (ENSP Arles, France) and in fine art (BA visual art, Pantheon Sorbonne, Paris). Her work allows itself several shapes : photography and/or video installations, video and super 8 movies, drawing. She is interested by metaphoric « black holes », as she can find them in the memories, in human faces, in the absence and presence, in disappearance… Each of her installations propose a sort of peculiar narration.
Exhibition is open Friday April 26th hr. 20 – 22 and Saturday and Sunday April 27-28th hr. 14 – 17. Deiglan, Kaupvangsstræti 23, Akureyri, Iceland.
http://sylviadonis.com
Geislar af sól


Geislar af sól
Video og hljóðinnsetning
Verið velkomin á opnun "Geislar af sól" í Deiglunni á Akureyri föstudagskvöldið 26. apríl kl. 20. Gestalistamaður Gilfélagsins, Sylvia Donis, sýnir afrakstur dvalar sinnar, video- og hljóðinnsetningu. Léttar veitingar í boði.
Franski myndlistamaðurinn Sylvia Donis flutti úr ljósi Miðjarðarhafsins í hina eilífu nótt. Hún eyddi vetrinum á Norðurlandi.
Hér hitti hún hið svarta, snjóinn, hrafnana og fólkið, hið sýnilega og hið hulda.
Hún rannsakaði hið nána samband á milli næturinnar og sagnanna sem fólk segir hvort öðru þar sem myrku sögurnar taka á sig mynd.
Í þessari sýningu er gestum boðið að koma inn í myrkið og hitta ný andlit, að sjá óljós form og hlusta á raddir segja sögur af nóttinni og ljósinu.
Sylvia Donis er franskur myndlistamaður sem útskrifaðist úr ljósmyndun hjá ENSP Arles og myndlist í Pantheon Sorbonne í Frakklandi. Verk hennar taka á sig ýmsar myndir, til dæmis ljósmyndir og/eða videoinnsetningar, video og super 8 bíómyndir og teikning. Hún hefur áhuga á hugmyndinni um myndlíkingu svarthola en hún getur fundið svarthol í minningum, andlitum, í fjarveru og viðveru, í hvarfinu… Innsetningarnar hennar leggja til frekar einkennilega frásögn.
Sýningin er opin föstudaginn 26. apríl kl. 20 – 22 og laugardag og sunnudag, 27. – 28. apríl kl. 14 – 17. Deiglan, Kaupvangsstræti 23, Akureyri.
www.sylviadonis.com