Towards the unknown – Exhibition, pop-up bookshop & workshop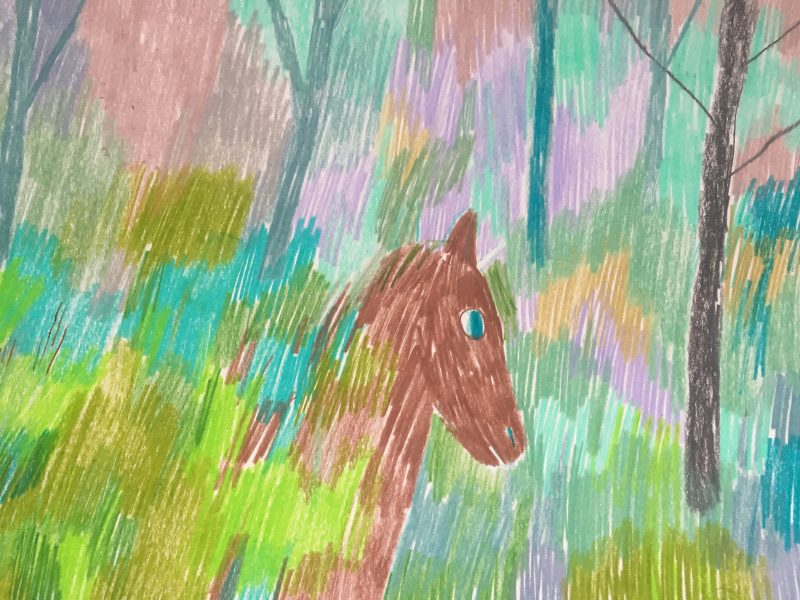 Emmi Jormalainen:
Towards the Unknown
Emmi Jormalainen (FI) is an artist, illustrator and graphic designer. She works with drawings, visual storytelling and printed artist books. Most of her books are silent books without any text and stories are told only with images.
Part of her next book "Eksyksissä / Being Lost" will be seen in the gallery Deiglan together with bigger drawings. "Being Lost" is about a horse who tries to find its way out of the forest.
"I often take walks in the forest. For me, forest is a calm and happy place. I can walk and look for mushrooms and berries for hours. Almost every time I get lost. For a split second the happy place turns into scary and hostile. I don't know where I came from, I don't know if I'm walking in circles. So far I've found my way out."
There is also a pop-up bookshop and a workshop where you can come and draw your own story as a small book.
Opening on Friday October 26 at 20.00
Gallery open on Saturday & Sunday, October 27-28, at 14.00-17.00
instagram: @illustratoremmi
www.emmijormalainen.com
More info: emmi@fastmail.com
The exhibition is supported by the Finnish Cultural Foundation.
//
Emmi Jormalainen
Towards the Unknown
Emmi Jormalainen er myndlistamaður, teiknari og grafískur hönnuður frá Finnlandi. Hún vinnur með teikningar, sjónræna frásögn og prentuð bókverk. Flestar bækur hennar eru þöglar bækur án texta þar sem sögurnar eru aðeins sagðar með myndum.
Nýja bókin hennar "Eksyksissä / Áttavillt" verður til sýnis að hluta í Deiglunni ásamt stærri teikningum. Áttavillt er um hest sem reynir að finna leið út úr skóginum.
"Ég fer oft í göngur í skóginum, fyrir mig þá er skógurinn rólegur og glaðlegur staður til að vera á. Ég get gengið og leitað af sveppum og berjum klukkustundum saman. Oftast tekst mér að týnast og í sekúntubrot verður skógurinn óhugnalegur og fjandsamlegur þar sem ég veit ekki hvaðan ég kom eða hvort ég sé að ganga í hringi. Hingað til hefur mér tekist að komast út."
Það verður einnig pop-up bókabúð og vinnustofa þar sem gestir geta komið og teiknað sína eigin sögu og útbúið litla bók.
Opnun á föstudag, 26. október kl. 20:00
Einnig opið laugardag og sunnudag, 27. – 28. okt. kl. 14 – 17:00.
instagram: @illustratoremmi
Nánari upplýsingar: emmi@fastmail.com
Sýningin er styrkt af Finnish Cultural Foundation.