Untitled Lullaby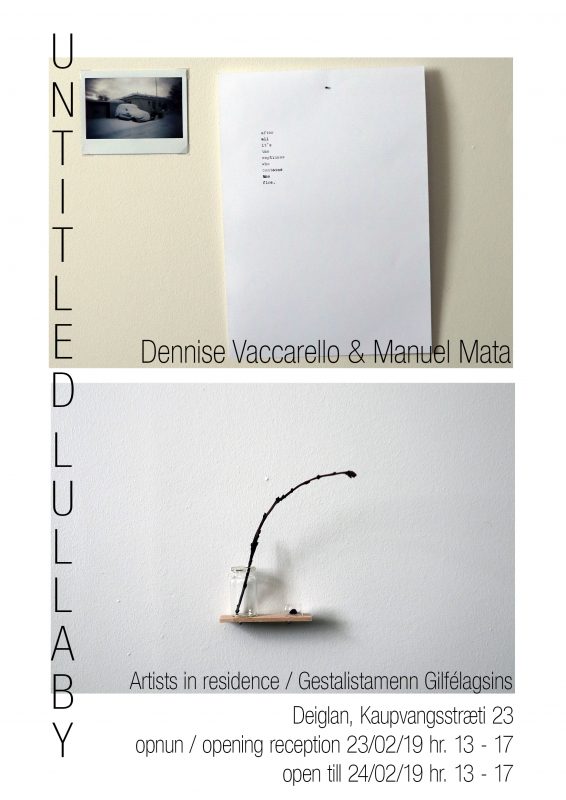 Please join us for the opening of "Untitled Lullaby" in Deiglan, Kaupvangsstræti 23 Akureyri, on Friday, 22nd of February hr. 17 – 20. The exhibition is open on Saturday and Sunday hr. 13 – 17. Light refreshments and the artists are present.
The exhibition focuses on the work of Dennise Vaccarello and Manuel Mata, current residents of the Gil Artist Residency.
Both artists come from Spain and work as professors at the Faculty of Fine Arts of Pontevedra. Although their interests and proposals follow very different paths, they are accustomed to sharing the same exhibition space and to interpenetrate their different points of view in order to enrich their respective proposals.
During the exhibition, two separate proposals will be shown.
On one hand, Dennise Vaccarello will follow her usual line of work in which landscape, fiction and daydreaming play a central role. Through her experience in Akureyri she will give shape to a discourse that oscillates between the scientific field and the fantasy.
On the other hand, Manuel Mata will work with instant photography and short text to offer an approximation to his days in Akureyri. Using the diary as a discursive tool, Manuel will focus his work on poetic language, brief narration and technical simplicity.
"Untitled Lullaby" is the title of the exhibition, which serves as a bridge between the work of both artists and, also, between the quality of foreigners of these and the effect that Iceland has on them.
//
Verið velkomin á opnun sýningarinnar "Untitled Lullaby" í Deiglunni föstudaginn 22. febrúar 2019 kl. 17 – 20. Gestalistamenn Gilfélagsins Dennise Vaccarello og Manuel Mata sýna afrakstur dvalar sinnar en þau hafa búið í Listagilinu í febrúar. Sýningin er einnig opin laugardag og sunnudag kl. 13 – 17.
Listamennirnir koma bæði frá Spáni og eru prófessorar hjá Listaháskólanum í Pontevedra.
Þrátt fyrir ólík áhugasvið og hugmyndir þá eru þau vön því að deila sýningarrými og koma á framfæri mismunandi sjónarmiðum sem auðga hugmyndir hvors annars. Á sýningunni verða því kynntar tvær hugmyndir.
Dennise Vaccarello vinnur eins og oft áður verk þar sem landslag, skáldskapur og dagdraumar spila lykilhlutverki. Hún vinnur útfrá reynslu sinni af Akureyri þar sem hún mótar umræðu sem sveiflast á milli vísinda og fantasíu.
Manual Mata vinnur með skyndiljósmyndun (polaroid) og stutta texta sem sýna frá dögum hans á Akureyri. Hann nýtir dagbókina sem verkfæri til hugleiðingar og leggur áherslu á ljóðrænu, stutta frásögn og tæknilegan einfaldleika.
Titill sýningarinnar "Untitled Lullaby" vinnur sem brú á milli verka listamannnana og einnig sem útlendingar og þeirra áhrifa sem Ísland hefur haft á þau.