Surrounded By – Dana Neilson & Tuomo Savolainen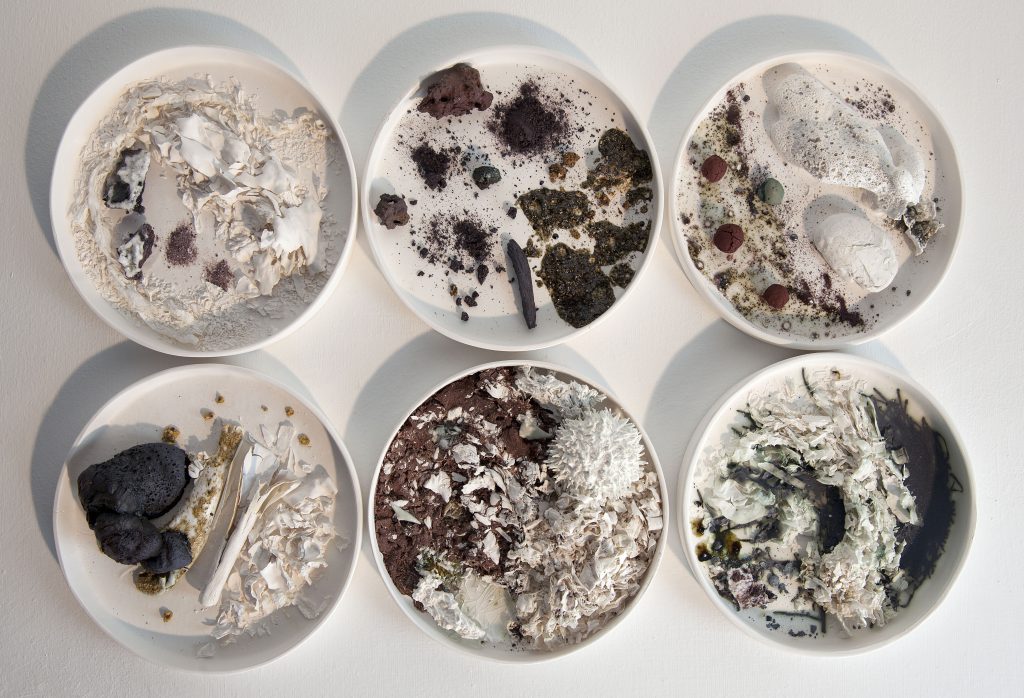 You are invited to Surrounded By, an exhibition of works created by Dana Neilson and Tuomo Savolainen while at Gil artist residency. Please join us for light refreshments on Saturday, June 23rd hr. 14 – 17 or on Sunday hr. 14 – 17.
The artwork is inspired by city of Akureyri and the surrounding area.  15 views to Mt.Súlur (Tuomo Savolainen) are landscape drawings inspired by the series 36 views to Mt.Fuji by Katsushika Hokusai.  Portraits of a Coast Town (Dana Neilson) is an exploration into the use of found material in ceramics. The work is a mixture of collections, maps and experiments and highlights the process of art making as just as interesting as a final art object.
Dana Neilson is a Canadian artist based in Helsinki, Finland. A photographer by education her practice also includes ceramics, sculpture and video art. The overarching theme is her work is the relationship humans have with their environment and how our physical world influences our interior selves. At the moment her main points of inquiry are what's natural about human nature? Order vs. disorder (culture vs. nature) and ceramics from scratch. She will graduate this spring from Aalto University Finland with a Master's of Visual Culture and Contemporary Art. Her work has been exhibited in Canada and Finland and she has upcoming exhibitions abroad.
Tuomo Savolainen is a Finnish artist who works primarily with installation, video and sound.  His work deals with expectation, preconceived ideas, the obviously unexpected and humor, whether it's funny or not.  He creates films in unanticipated formats as well as far fetched installations of geological, meteorological and cultural phenomena.
///
Verið velkomin á opnun Surrounded By, sýningar á verkum gestalistamanna Gilfélagsins, Dana Neilson og Tuomo Savolainen. Sýningin verður opnuð kl. 14 – 17 á laugardag, 23. júní og er líka opin á sunnudag, 24. júní kl. 14 – 17. Sýningin er hluti af Jónsmessuhátíð og Listasumri.
Verkin eru innblásin af Akureyri og nágreni. Tuomo Savolainen mun sýna landslagsteikningar í anda 36 sjónarhorn á Fuji eftir Katsushika Hokusai sem kallast 15 sjónarhorn á Súlur. Portrett af sjávarbæ (Portrait of a Coast Town) eftir Dana Neilson er athugun á notkun fundnu efni í keramiki. Verkin eru blanda af söfnun, kortum og tilraunum og leggur áherslu á ferlið í listsköpun sem jafnáhugavert og lokaútkoman.
Dana Neilson er kanadískur myndlistarmaður sem er búsett í Helsinki, Finnlandi. Hún er lærður ljósmyndari en vinnur einnig með keramik, skúlptúr og vídeolist. Þema verka hennar er samband fólks við umhverfi sitt og hvernig ytra umhverfi hefur áhrif á innra sjálf. Í augnablikinu er útgangspunkturinn spurningin hvað er náttúrulegt við mannlegt eðli? Regla á móti óreglu (menning á móti náttúru) og keramik frá grunni. Dana mun útskrifast með mastersgráðu í myndrænni menningu og nútímalist frá Aalto háskólanum í Finnlandi. Verk hennar hafa verið sýnd í Kanada og Finnlandi og á næstunni mun hún sýna í fleiri löndum.
Tuomo Savolainen er frá Finnlandi og vinnur helst með innsetningar, vídjó og hljóð. Verk hans fjalla um væntingar, fyrirframgefnar hugmyndir, hið augljóslega óvænta og húmor, fyndnan jafnt sem ófyndnan. Hann býr til kvikmyndir í óvenjulegum formum sem og ósennilegar innsetningar af jarðfræði-, veðurfræði- og menningarfyrirbærum.